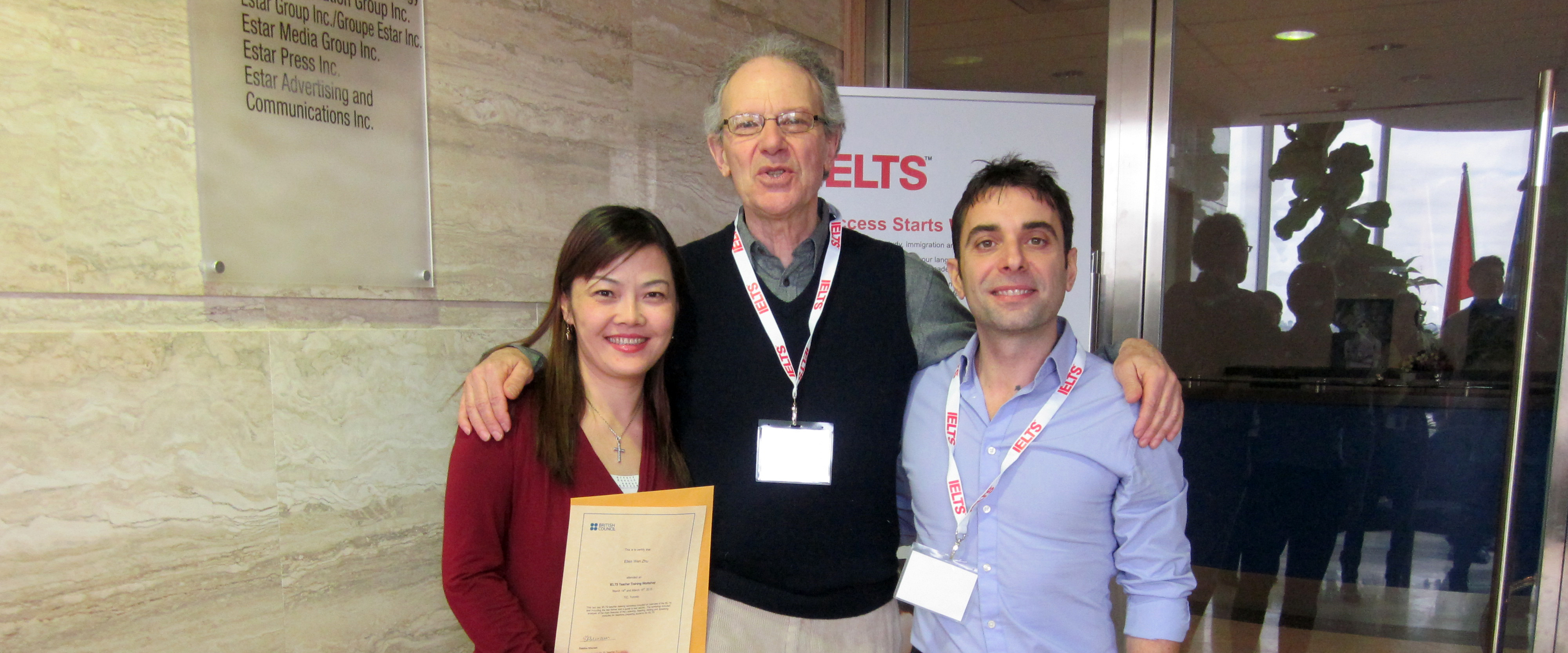 What is the IELTS exam?
The International English Language Testing System (IELTS) is an examination for people who plan to emigrate or study overseas. It tests the complete range of language skills that are needed by students and professionals in English-speaking environments. It is an internationally recognized exam that tests English language competence.
How will the course help me?
Our IELTS Preparation courses will help you:
prepare for the IELTS exam
practice the type of questions you will face in the examination
understand the kind of answers the examiner expects from you
teach you the techniques to help improve your score
familiarize yourself with the test format and time restrictions
What LEVEL are IELTS Preparation courses?
To be eligible to join our IELTS preparation courses, you have to have a General English level that is equivalent to Advanced level. This is the minimum General English level required before you can do our IELTS Preparation courses. This is because the IELTS Preparation courses will not improve your overall LEVEL of English, but improve your exam techniques and strategies and help you get the best score that you can. Your foundation of English has to be quite solid before you should attempt the exam.
When are the IELTS Preparation Courses held?
Intensive courses are 10 hours per week for a total of 7 weeks per module, and are held during the week prior to the IELTS exam from Monday - Friday.
Regular Courses are held for eight weeks, classes two hours per day five times a week for eight weeks. Seats are limited and admission will be on first-come first-served basis. All you have to do is make an appointment for a placement test on any work days from 9.00 a.m. – 5.00 p.m. by coming into Ontario International College or by telephoning. We will assess your level of English and advise you on your eligibility. You can then register for any course in advance.
Please log on to the Cambridge website for more information. And to know more on how to apply for the IELTS exam, click here
Course Dates
The placement test and interview are conducted by appointment only.
Seats for the test are limited and are available on a first come first served basis.
The placement test takes place every Monday and Saturday (except on public holidays) and during these dates from 9.00 a.m. to 5.00p.m.
To avoid disappointment, please contact Ontario International College to make an appointment for the placement test in advance.

IELTS preparation courses - Intensive 80-hour course. For more details contact:
Office of Marketing and Recruitment, Ontario International College at Tel.: 416-793-1888, Ext. 4451; Fax: 416-793-1884; Email: adm@oicedu.ca
Placement Tests
All students take a short test, an assessment of your English level so we can recommend the right course for you. The test takes about 3 hours to complete and is made up of three parts:

a written test
an interview
counselling to find the right course for you.
The Placement Test fee is CAD$100.00.
TIC 2017 IELTS test date
| Test Date | Final Date for Submitting Entries | Pre-release Results Checks |
| --- | --- | --- |
| 14/01/2017 | 09/12/2016 | 25/01/2017 |
| 18/02/2017 | 13/01/2017 | 01/03/2017 |
| 18/03/2017 | 10/02/2017 | 29/03/2017 |
| 08/04/2017 | 03/03/2017 | 19/04/2017 |
| 06/05/2017 | 31/03/2017 | 17/05/2017 |
| 03/06/2017 | 28/04/2017 | 14/06/2017 |
| 08/07/2017 | 02/06/2017 | 19/07/2017 |
| 12/08/2017 | 07/07/2017 | 23/08/2017 |
| 16/09/2017 | 11/08/2017 | 27/09/2017 |
| 14/10/2017 | 08/09/2017 | 25/10/2017 |
| 04/11/2017 | 29/09/2017 | 15/11/2017 |
| 02/12/2017 | 27/10/2017 | 13/12/2017 |